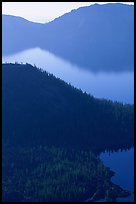 Yesterday I drove an hour from my home to meet another writing friend who happened to be passing through the area. As a home schooling mother of several children, I have to admit I don't get to leave the house very often. So it was just me driving north on the freeway in Oregon.
A Chris Tomlin song played over the radio. I enjoyed the beautiful mountains and curvy roads. (this time because I was driving and not my husband who takes the curves entirely too fast.) I considered how incredibly beautiful the mountains are and thought back to my search for images to go in my blogskin. It made me think that no matter what we do, what we create, there is nothing that can match or even come close to the beauty we see God's creation–INDESCRIBABLE–as the song says.
When I met with my friend we discussed writing-related topics–it's in our blood! LOL I told her that I had been considering sending my fantasy to the ABA, given the current status of the CBA market. Her mouth dropped open. She and her son questioned me at the same time "WHY?" They both began to babble on about the success of several Christian fantasy series such as Bryan Davis's Dragon's In Our Midst, and Donita K Paul's Dragon Keeper Chronicles–both of which have had phenominal sales. You'd think with this sort of track record, that the Christian publishers would have an interest in this genre. Though I know that the Lord has directed me to write my story, the outcome–will it go to the ABA or the CBA–remains in His hands. (I will stay out of the future as Karen Hancock says!)
This brings me to the reminder that our SFF blog tour for June begins next week officially on Tuesday. We'll be focusing on Donita K. Paul's website, books, and success. I've listed the bloggers joining the tour this time:
Valerie Comer
Johne Cook
Janey DeMeo
Mary E. DeMuth
Rebecca Grabill
Leathel Grody
Katie Hart
Sherrie Hibbs
Marcia Laycock
Shannon McNear
Matt Mikalatos
Becky Miller
Mirtika Schultz
Stuart Stockton
Steve Trower
See you there!
Blessings
Beth.