I've posted my newsletter here. I encourage you to sign up to receive my quarterly newsletter, at the right of the page just under the images of my books.
~~~~~~~~~~~~~~~

Dear Friends,
Though it's still a week before Spring has officially arrived, I'm sending you my Spring newsletter. I didn't send out a winter newsletter because there was too much going on. Sometimes, that's not such a great thing. We enjoyed the holidays with family in Texas. In January, we moved from Oregon to our property in Texas. Over the same period, I was busy working on deadline for a novel set in North Dakota and a Christmas novella. Despite the many changes over the previous year, this coming year shows to be full of promise. So, it's fitting that I'm sending this now.
---
Announcement
I'm thrilled to announce that I recently acquired representation by Steve Laube of The Steve Laube Agency. I'm honored and humbled to be a part of this agency—one of the best in the Christian publishing industry. To all who have prayed and cheered me on over the years, thank you. The prayers and hard work have paid off.
---
Upcoming Releases!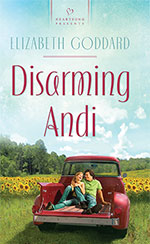 I have three books releasing with the Heartsong Presents Book Club this year. DISARMING ANDI released this March.
Next is EXPOSING AMBER, in August, and PRAYING FOR RAYNE, in December. All three books are set in North Dakota and will be repackaged to release with Barbour's Romancing America's series at some point.
In September look for RIVERWALK CHRISTMAS—a 4-in-1 anthology collection and in December, THE CAMERA NEVER LIES, a cozy mystery. Both books are with Barbour Publishing.
To learn more about these books, please visit my website. I'm working to update the books section, so check back often.
---
Staying Touch
There are two new ways you can stay in touch with me and follow my news in addition to this newsletter.
I have a twitter account at twitter.com/bethgoddard and I've added a readers group through Facebook, Elizabeth Goddard Readers Group. Links to these can also be found on my contact page on my website.
I hope to see you there!
---
On the Personal Side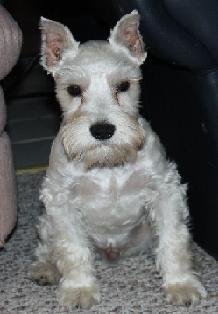 Meet Dekker, our new miniature Schnauzer puppy!
We lost our JRT, Captain Jack Sparrow, over the holidays while staying with family. He suffered with a serious heart murmur that progressed to congestive heart failure. I still miss him.
Dekker is named after author, Ted Dekker. Everyone disagreed over the name so each family member–and there are six of us– selected their top five names and we put them into a hat for a drawing. The only name I wouldn't allow into the hat was Bulborg—a character from Picmin. No way would I call any creature that name.
Some of the names I selected for the hat were Newton as in Sir Isaac Newton and Einstein. See where my thoughts are? I'm glad I allowed someone else to draw from the hat so I wouldn't be accused of cheating!
Thank you for taking time out of your busy day to join me!