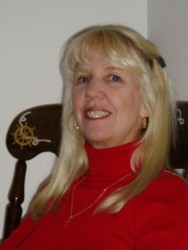 BG: Thanks to you, Kathy, for joining us today. We're looking forward to hearing more about Trackers. Can you give us some details, including what you love about it?

KM: In Trackers we catch up with Brady, Niki, and the rooks as they return from Arabah. (Arabah is the missing Birthright camp.) The Birthrighters of Horesh are under tremendous pressure because they now have to gather all of Arabah's collections as well as their own. Meanwhile, Timothy is head-over-heels for Dawnray, the young woman kidnapped to mother an heir for the evil Baron Alrod. As an excuse to enter Traxx, Timothy conjures up a mission to retrieve the shroud that Alrod has. He's not pleased when Niki is assigned to accompany him.
What I love about it are the twists—which I can't go into here. But character-wise, I love seeing both heroes and evildoers playing out their humanity on a fantastic stage. We see Brady and Niki at their most heroic but also very vulnerable. And we see Ajoba and Anastasia—on separate missions—have to grow to fit what is required of them. The Anastasia of Outriders was quite the diva. I loved challenging her and watching her grow.
BG: The characters in both books are strong and courageous. But what do you feel is the take away message in spiritual terms?
KM: When my characters grow closer to God, I get to as well. And when my antagonists stumble on their own arrogance or hateful natures, I need to confront my own nature. I hope my readers experience the same.
What I love most off all is using the vehicle of fiction to portray the daily provision and deliverance by which a Spirit-led life is blessed. Niki huddling under a piece of shroud to escape the fire of wrath is an exciting scene but more importantly for me, it's a picture of the covering that Jesus Christ gives me. Fantasy gives the writer so many opportunities to portray spiritual truths—and joys.
BG: Wow, I hadn't thought of it that way. When I read that scene I was mostly astounded at your creative abilities–an image of Christ didn't come to me at the time. The covering of Jesus certainly brings me to my next question. You focus quite a bit on Ajoba's redemption from her disobedient behavior in Outriders. And through it, Brady suffered greatly, but in many ways due to his own stubbornness. Can you share why you took this path with your characters and any thoughts you have about it.
KM: Ajoba has a good heart—a heart for the Lord. But we are also called to obedience. There is a consequence to her actions that I felt was important to show, as well as the daily battle all believers share in resisting our old nature. Ajoba, who resists Brady's leadership with very good intentions, can't make a true turnabout until circumstances force her to fill Brady's role. Suddenly everything looks entirely different to her, just as it is for us when we filter our experience through Christ rather than our own desires.
As to Brady's stubbornness, the challenge of discipline—especially church discipline—is to know when to stand firm and when to step aside. This challenge is magnified when there's an entire body of believers whose safety, whether physical or spiritual, is at stake. As any good leader, Brady has to deal with the question of knowing when it's the Lord leading him or when his own nature is pushing him into a course of action.
BG: You certainly know your characters well and they seem real, coming alive in these books. And of the two books, Outriders and Trackers, which would you say is your favorite? Which one resonates within you more?
KM: That's like asking which of my children is my favorite. I would say Trackers only because it's the younger—and perhaps more in need of my shepherding. In both books, grace is found in unexpected places. In Outriders, with the gargant (giant) Jasper. And in Trackers…oops, I won't reveal that. I love showing the breadth and depth of Christ's mercy.
BG: What would you say was your inspiration for the Birthrighter Project and what is the overall message you hope to get across?
KM: My original thought was to provide a worthy follow-up to the Harry Potter generation. These books certainly aren't kids' books but they are designed to feed teens and Gen X'ers and Y'ers who have an affinity for fantasy.
The Ark is meant as a metaphor for the church or the Christian home. The world of the strongholds is what we face every time we step outside our sanctuaries. Just as the Birthrighters collect specimens to honor God's creation, we share the Gospel to honor Christ's sacrifice. In the books, the kingdom of Traxx is sheltered by a wall of thorns. How many hardened hearts are there behind spiritual walls of thorns that the Spirit is calling us to dare to approach?
BG: Where did you find the inspiration for your characters? Did you model any particular character after someone you know? Any favs?
KM: In Trackers, readers will meet a young man named Gabe. He is definitely my favorite because, though he's the sorcerer's 'slave' and lives in Ghedo's lair, he still hears the call of God on his life.
Inspiration for characters? Hm…I think there's pieces of me in most of my characters. I want to be Brady—wise, kind, bold, strong. But I'm more often Niki—determined to do good but afraid to ask the Lord what He wants me to do! Niki and her wolf is a definite picture of me and my old, ratty dog who loyally follows me when I call. I've been petulant like Anastasia in Outriders, but also optimistic like the Anastasia we see in Trackers. And I'd be lying if I didn't say I had moments like Ghedo, where I want to shape my life my way. Writers have the privilege of playing out our own nature in our characters. But we also have the responsibility to learn from the process.
BG: You write both thrillers and science fiction. Which do you prefer and why?
KM: Is it a cop-out to say I prefer doing both? That I love thrillers with a touch of science fiction that allows me world-building? If you forced me to chose, I'd say I prefer science fiction when I'm doing film, and thrillers when I'm writing novels.
BG: As you know, some Christian readers don't approve of science fiction or fantasy. How do you feel about that and what is your rebuttal?
KM: Imaginative literature gives us the tools to show truth in so many compelling ways. People perceive truth in different ways. Jesus knew this, which is why he taught some in parables and others in harsh tones. The apostle Paul geared his teaching for different cultural groups. Certainly Tolkien, Lewis, and Charles Williams used fantasy (and a little science fiction, in Lewis' case) to great effect.
Earlier in this interview I spoke of just some of the story metaphors I've employed to portray spiritual truths. For example—Traxx's wall of thorns as the hardened heart. In Trackers, Brady burns his finger in the fire to rid himself of a mog. To me, this is a picture of the 'searing' work of the Holy Spirit in ridding us of sin. Shroud is the seal of the Holy Spirit.
BG: Same thing with the Christian "chillers." I'd love to hear your opinion about why Christians should write in this genre.
KM: First of all, Christians are people too. Some of us enjoy romances, others historicals, still others thrillers. As in any genre, we need to be careful not to exploit for the sake of shock but to use the story to tell the greater Story. While it's true that many Christian readers enjoy using their fiction as an escape or sanctuary—and that's a wonderful thing—others are looking for fiction that doesn't shy away from the danger of the world we live in.
Thrillers are a very popular genre in the mainstream market. I write my thrillers with the prayer that non-believers will pick up my books and find a rousing story that includes spiritual truth. Horror is popular in mainstream literature but very few will show the divine side. For example, in The Exorcist, the young girl is demonically-possessed but the mother never cries out to God. This is a readership that needs to see God in control.
That concludes our interview today. Join me tomorrow for the second part and learn what Kathy considers her "dream" project and what she has in the works for the future.
Plus, hop over to the Speculative Faith blog on Tuesday to read the first chapter of TRACKERS! And don't forget to comment here to be eligible to win the two-book set of the Birthright Project.
Other participants:
Jim Black
Jackie Castle
Valerie Comer
Frank Creed
Gene Curtis
Chris Deanne
Janey DeMeo
April Erwin
Beth Goddard
Mark Goodyear
Todd Michael Greene
Karen Hancock
Elliot Hanowski
Katie Hart
Sherrie Hibbs
Sharon Hinck
Joleen Howell
Jason Joyner
Karen and at Karen's myspace
Oliver King
Tina Kulesa
Lost Genre Guild
Kevin Lucia and The Bookshelf Reviews 2.0 – The Compendium
Terri Main
Rachel Marks
Shannon McNear
Rebecca LuElla Miller
Caleb Newell
Eve Nielsen
John Otte
Cheryl Russel
Hannah Sandvig
Mirtika Schultz
James Somers
Stuart Stockton
Steve Trower
Speculative Faith
Chris Walley
Daniel I. Weaver
Blessings!
Beth.